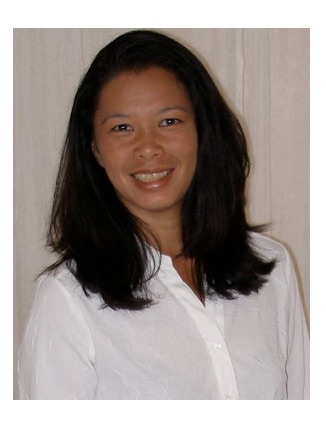 Sharlene was born and raised on the Big Island of Hawaii and a graduate of Honoka'a High School. As a young adult she moved to New York City, thereby attending one of the most prestigious massage schools in the nation. The Swedish Institute College of Health Sciences offers students one of the most intense and comprehensive curriculums in both Western Physiology and Eastern Philosophy combined. Her training included internships at Bellevue Hospital, Lutheran Hospital and the P.H. Ling Clinic.
Sharlene continued her studies at The Napa Valley School of Massage. Thereafter, her training includes studying with world-renowned Chongkol Setthakorn at the Institute of Thai Massage in Chiang Mai, Thailand. In Beijing, China, she interned with the Chinese Olympic Team Medical Doctors at the Sports Hospital of Nrism and continued her education in Beijing at the China Academy of Traditional Chinese Medicine. She later studied with Angela Longo, founder of The Traditional Chinese Medical College of Hawaii. Sharlene then became a teacher of Tuina at the college and also taught anatomy.
Sharlene started her career as a Massage Therapist in 2000. Occupations in New York City consisted of Stein Seniors Center and upscale luxury properties such as: The Waldorf Astoria, The Plaza, The Regent Wall Street, Regency Hotel Park Avenue and The New York Palace. After returning to Hawaii, she worked at various Kohala Coast properties including: Kuki'o Spa, Hilton Spa, the prestigious Mauna Lani Spa, and was Lead Therapist at The Hawaiian Rainforest Spa located at the Outrigger Waikoloa Beach Marriott. Sharlene's most favorite property being The Spa Without Walls at The Fairmont Orchid. Sharlene is highly trained in massage and spa treatments including all scrubs, wraps, hot rocks, and vichy.
While juggling numerous opportunities, in 2005, she opened her private practice, Asian Pacific Massage, in Kamuela, Hawaii, her hometown. Sharlene's focus on Medical Massage has allowed her to successfully treat chronic soft tissue complications arising from various types of accidents, injuries, and surgeries. Each session is a specialized integration of both Western Physiology and Eastern Philosophy. As an Asian Bodyworker, modalities such as Tuina, Thai, Shiatsu, Acupressure and Cupping, alongside Swedish, Sports, Myofascial, and Lomilomi techniques are incorporated. Her CranioSacral training has since provided another skillset to assist in the facilitation and restoration of both energetic and functional disorders. Sharlene has been performing massage since 2000 in a wide variety of clinical, corporate, and spa settings and operated a private practice in Hawaii for 15 years.
In 2017, she relocated to Sonora, CA and opened a practice at Mountain House Holistic Center. However, in 2020 and due to the pandemic, the office was closed. In 2021, she was able to once again share her passion in the spa at The Firebrand Hotel in Whitefish, Montana and at Mariposa Massage in Helena, Montana. Her new private practice, Legendary Massage Therapy, officially debuted in December 2021 in Bowman, North Dakota.
Sharlene is also a Business Coach and assists other healthcare practitioners, whether new or established, in the realization of their ideal career through the uncovering of intention, direction, purpose and clarity. Idea Realized.
Sharlene would expressly like to acknowledge the immense training and time well spent from her mentors; Vincent Metzo, Dr. Kong, Dr. Wong, Dr. Xu Mengzhong, Kenneth Lubowich, Tamara Mondragon, Angela Longo and The Upledger Institute International.
BAS: Siena Heights University
AOS: Swedish Institute College of Health Sciences
Aloha Ke Akua